Rajkot Bearing Industries (Gujarat)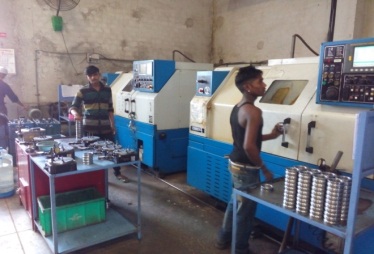 Introduction
Rajkot district is an industrial hub with over 23,000 industrial units located in 15 different industrial estates spread across 25 square kilometers. Among them is a cluster of about 150 units manufacturing bearings of different kinds. Most of the units are MSMEs. The bearings units fall under three broad product categories: (1) cage manufacturers (25 units), (2) rolling element manufacturers (35 units) and (3) bearing assembly units (90 units). The products are sold to Original Equipment Manufacturers (OEMs) and general engineering industries. The bearings cluster provides employment, direct and indirect, to about 15,000 people.
Products manufactured
Different kinds of bearings like ball bearings; taper roller bearings; cylindrical roller bearings; needle roller bearings; thrust bearings
Number of MSMEs
150
Energy consumption
Low
Main fuels
Electricity; diesel; furnace oil (FO); LPG
Production & turnover
Rs 1500 crores (15 billion)
Total energy consumption (toe)
3903
Leading industry association(s)
Cluster Profile
http://www.sameeeksha.org/pdf/clusterprofile/rajkot-bearing.pdf
Other Resources
Source: Data pertains to 2015-16, collected primarily under the TERI-SDC EESE project.