Yamunanagar plywood industry cluster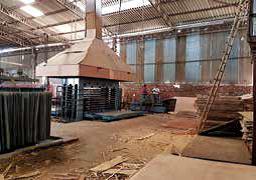 Introduction
The industrial city of Yamunanagar (Haryana) has a large cluster of plywood industries, in addition to various other small, medium and large industries manufacturing products such as sugar and paper machinery, metal utensils, railway parts, and equipment for petrochemical plants. The plywood industries have come up mainly due to the easy availability of the primary raw material for making plywood, i.e., poplar trees, in the locality. About 50% of the plywood used in India is produced in this cluster. The Yamunanagar plywood cluster has been taken under the Ministry of MSME's Micro & Small Enterprises - Cluster Development Programme (MSE-CDP) for establishment of a Common Facility Centre that will benefit the units by way of improving product quality, reduce product costs, etc.
Products manufactured
Plywood products such as block board, decorative plywood, chequered plywood, flush door, mould door, marine plywood, flexi ply, film face ply, densified film face ply, laminated veneered lumber, etc.
Number of MSMEs
696
Energy consumption
High
Main fuels
Sawdust (from saw mills); electricity
Production & turnover
3 million square feet daily
Total energy consumption (toe)
138,793 toe
Leading industry association(s)
Yamuna Nagar Plywood Association
Cluster Profile
http://www.sameeeksha.org/pdf/clusterprofile/YamunaNagarPlywood.pdf
Other Resources