Coimbatore foundry cluster (Tamil Nadu)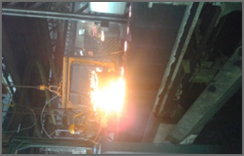 Introduction
Coimbatore is an important industrial cluster with a large number of textiles and spinning units, textile machinery manufacturers, and pump and electric motor manufacturers. The cluster is by far the largest producer of wet-grinders in India. Also, in recent years, a number of major automobile manufacturing units have come up in the vicinity like Hyundai, Honda, Leyland, Allwyn Nissan, Pricol, L&T, LMW and Mahindras. There is a large demand for castings from these different industries, which are met by foundry units located in the Coimbatore cluster. Of the 535 foundries in the cluster, about 15 are large-scale, 70 are medium-sized, and the remaining units are in the small and micro category. The foundry units in the cluster have production capacities ranging from 500 tpy to 2000 tpy.
Products manufactured
Ferrous castings for different industries like automotive components, pump sets, wet grinders, textile machinery, etc.
Number of MSMEs
535
Energy consumption
Medium
Main fuels
Electricity, coke
Production & turnover
600000 tonne per annum of castings, Rs. 3400 crores
Total energy consumption (toe)
58640
Leading industry association(s)
Cluster Profile
www.sameeeksha.org/pdf/coimbatore-foundry-cluster.pdf
Events
http://www.sameeeksha.org/index.php?option=com_content&view=article&id=87
Source: Data pertains to 2015-16,, collected primarily under the TERI-SDC EESE project