Jagadhri brass and aluminium cluster (Haryana)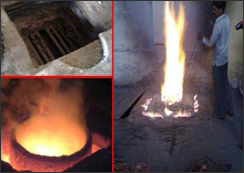 Introduction
Jagadhri, an industrial town in Yamuna Nagar district of Haryana, is renowned for a cluster of about 175 MSMEs that manufacture brass and aluminium ware. The production capacities of brass units range from 180–600 tonnes per annum (tpa), and of aluminium units from 240–960 tpa. The brass units mainly use coke-fired `pit furnaces' for melting; some units use electrical induction furnaces. The aluminium units commonly use oil-fired pit furnaces for melting. Three types of annealing furnaces are employed in the cluster: electrical, wood-fired and oil-fired.
Products manufactured
Brass utensils, sheets, coils and strips; aluminium utensils.
Number of MSMEs
175
Energy consumption
Medium
Main fuels
coke (imported), furnace oil, wood, electricity
Production & turnover
67,200 tonnes
Total energy consumption (toe)
36756
Leading industry association (s)
Jagadhri Metal Manufacturers & Suppliers Association
Small Scale Aluminum Utensils Manufacturers Association
Cluster profile
http://www.sameeeksha.org/pdf/clusterprofile/Jagadhri_Brass_and_Aluminium_Cluster.pdf
Source: Data pertains to 2010-11, collected primarily under the BEE-SME program