Gujarat dairy cluster (Gujarat)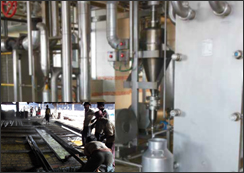 Introduction
Gujarat is the fourth largest milk producing state in India. It has over three million milk producers organized under village-level milk cooperatives, and milk processing units (dairies) in every district. Most of these dairies are SMEs. Fresh milk is collected from various cooperatives; after grading, weighing, chilling and sampling, it is dispatched to the dairies where it is processed into packaged milk for distribution, as well as various milk-based products.
Products manufactured
Milk and milk-based products like butter, cheese, curd, ghee, paneer (cottage cheese), milk powders, ice cream, flavoured milk, sweets, etc.
Number of MSMEs
45
Energy consumption
Low
Main fuels
Furnace oil, natural gas, wood, Electricity
Production & turnover
10.3 million tonnes of milk (2012–13).
Total energy consumption (toe)
9344
Leading industry association(s)
Gujarat Cooperative Milk Marketing Federation (brand name 'Amul')
17 District Cooperative Milk Producers' Unions
17,025 village-level cooperative societies
Cluster profile
https://www.sameeeksha.org/pdf/dpr/Gujarat_Dairy.pdf
Other resources
http://www.indiadairy.com/tech_list_dairyplants_western.html

Source: Data pertains to 2010-11, collected primarily under the BEE-SME program